Cast Parts for the Construction of Presses
In the field of press construction, we primarily supply manufacturers of forming and deep-drawing presses as well as punching machines, which are used in the automotive industry, in electrical engineering and in the clothing industry. The castings manufactured in our iron foundry range from guide carriages, yoke plates and rams to pillars and hydrostatic tables. A good feed technology as well as non-porous and oil-tight casts are essential product features that our customers appreciate.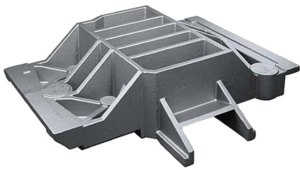 PRESS CONSTRUCTION: YOKE, 1150 KG, GJL 250
Inquiry
Do you need more information?
Dossmann GmbH
Eisengiesserei und Modellbau
Amorbacher Street 43
74731 Wallduern-Rippberg
Germany
Telephone +49 6286 18-0
Telefax +49 6286 18-20