Cast Parts for the Construction of Engines
The castings we produce for the construction of engines range from turbochargers and rocker housings to gearboxes and engine blocks to volute casings. Equally diverse are the places where these castings are used: marine engines, gas turbines, locomotives and combined heat and power plants, e.g. as bearings for turbine shafts and rotors, attachments for marine engines and compressor parts for marine diesel and combined heat and power plants. For our customers in the field of engine construction, we supply cast blanks that meet both extremely high requirements regarding the surface and the usually very strict acceptance requirements for safety parts.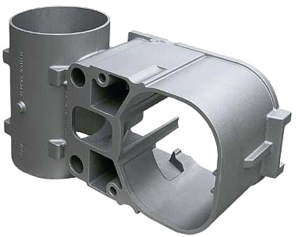 ENGINE CONSTRUCTION: ROCKER ARM, 620 KG, GJL 300
Inquiry
Do you need more information?
Dossmann GmbH
Eisengiesserei und Modellbau
Amorbacher Street 43
74731 Wallduern-Rippberg
Germany
Telephone +49 6286 18-0
Telefax +49 6286 18-20