Cast Parts for Paper Machines
Our castings are used by companies in the paper processing industry. We produce cast blanks for clamping and cutter bars, table tops and machine stands for paper-cutting machines. These are used in printing houses, bookbinders and manufacturers of cardboard packaging. For this purpose, the castings are galvanically surface-coated and have to meet the highest demands in regard to the surface – this is why we set a zero fault tolerance for these products.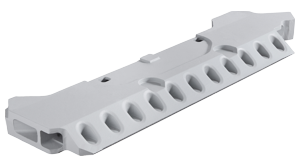 CUTTER BAR, 250 KG, GJL 250
Inquiry
Do you need more information?
Dossmann GmbH
Eisengiesserei und Modellbau
Amorbacher Street 43
74731 Wallduern-Rippberg
Germany
Telephone +49 6286 18-0
Telefax +49 6286 18-20